Our office got together on December 10th, 2021 to celebrate our annual Christmas Party. I wanted to personally thank all of my wonderful staff and our patients. Without you guys, I couldn't do it. Besides the small interruption by tornado warnings during our December party (very strange), we had a a really great time. This year we decided to have a our party hosted at Apple Seeds of Fayetteville. This was the perfect place for us. We had our own private chef make prepare us a three course meal and serve it in the Kitchen Table Venue located on the farm near Gully Park.
Below are some pictures of our party. Pictured are our staff members Ariana Johnston, Brittany Bell, Crista Sheppard, Courtney Jarrett, Kellie McCoy, Veronica Orr, Cindy Wright, Mary Hernandez, Lauren Rozeel. And we had a special visit from a previous staff member, Merideth Glasco. Happy Holidays, and Happy New Year! We look forward to seeing you in 2022!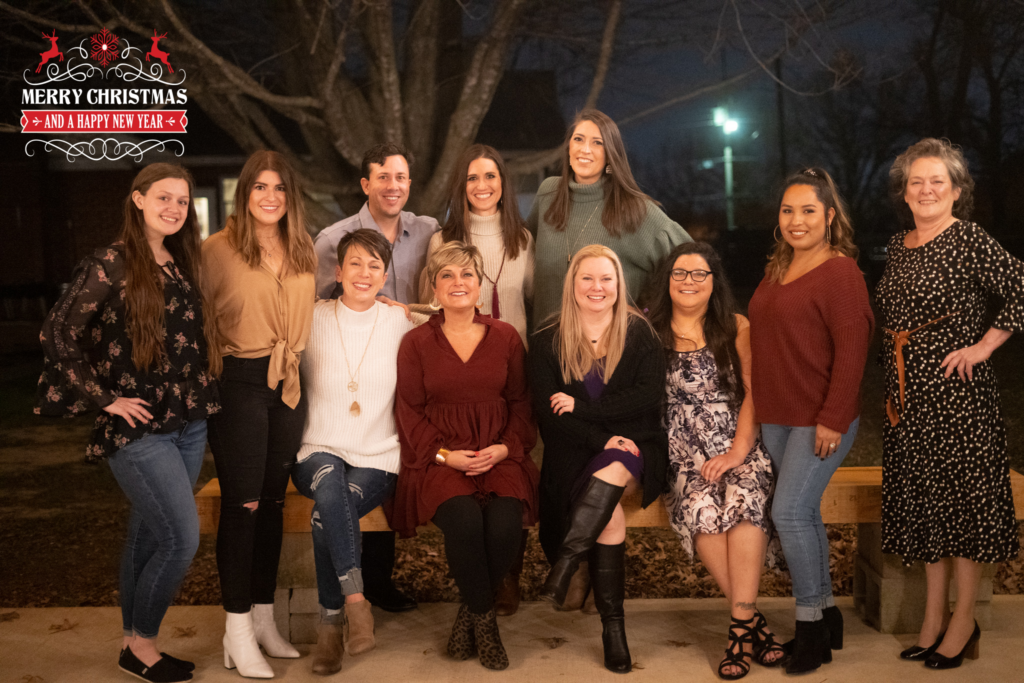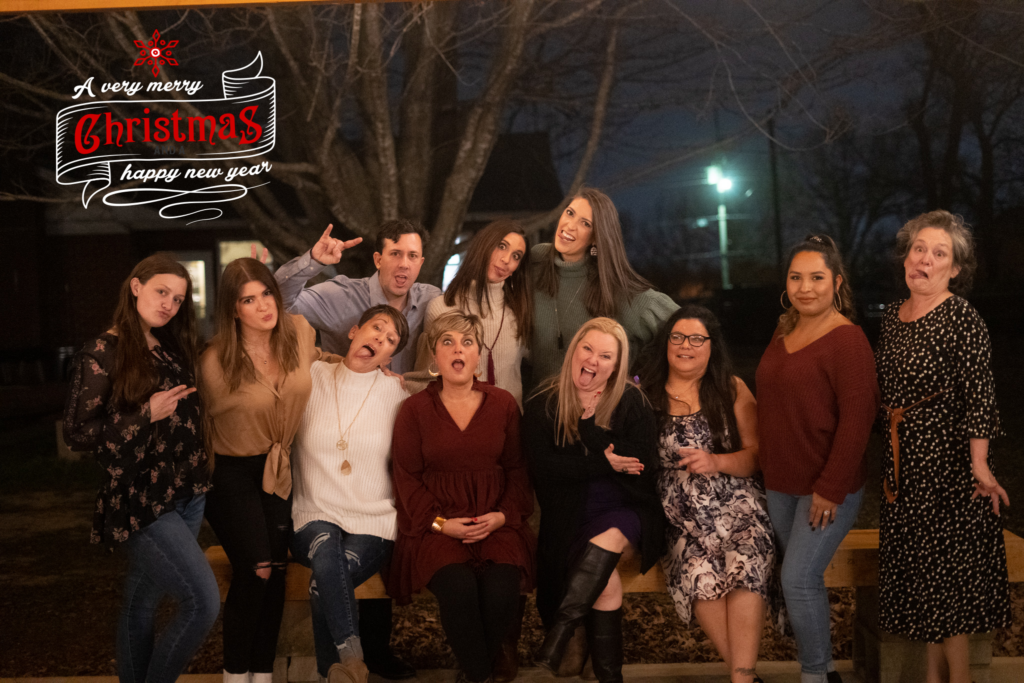 Well, we finally got to celebrate Brittany's five year anniversary at Founders Park Dentistry this week. Probably one of the most depressing days, while we were closed down due to the COVID-19 mandate, was on April 6th. I am posting the message Brittany sent me from the Arkansas unemployment office. I will never forget how terrible this was to read as an employer. I'm so grateful and glad to have everyone back at work. And thanks Brittany for being such a great hygienist! Even if we are not through this COVID-19 mess yet, it great to be back with my other family. Dr. Stark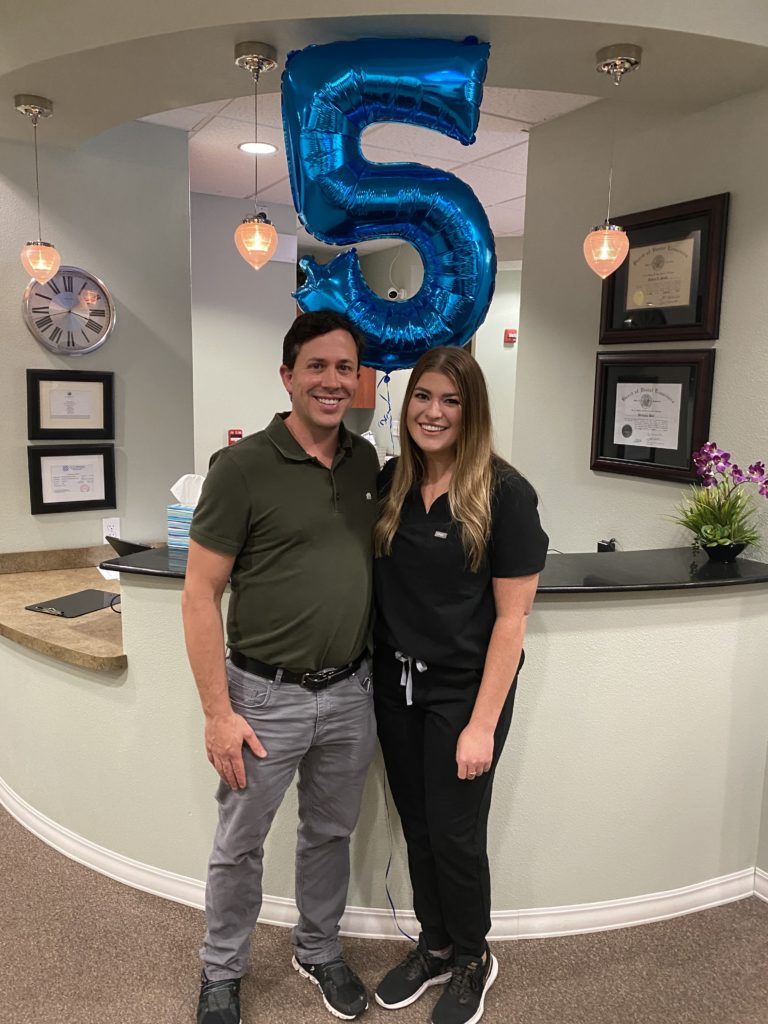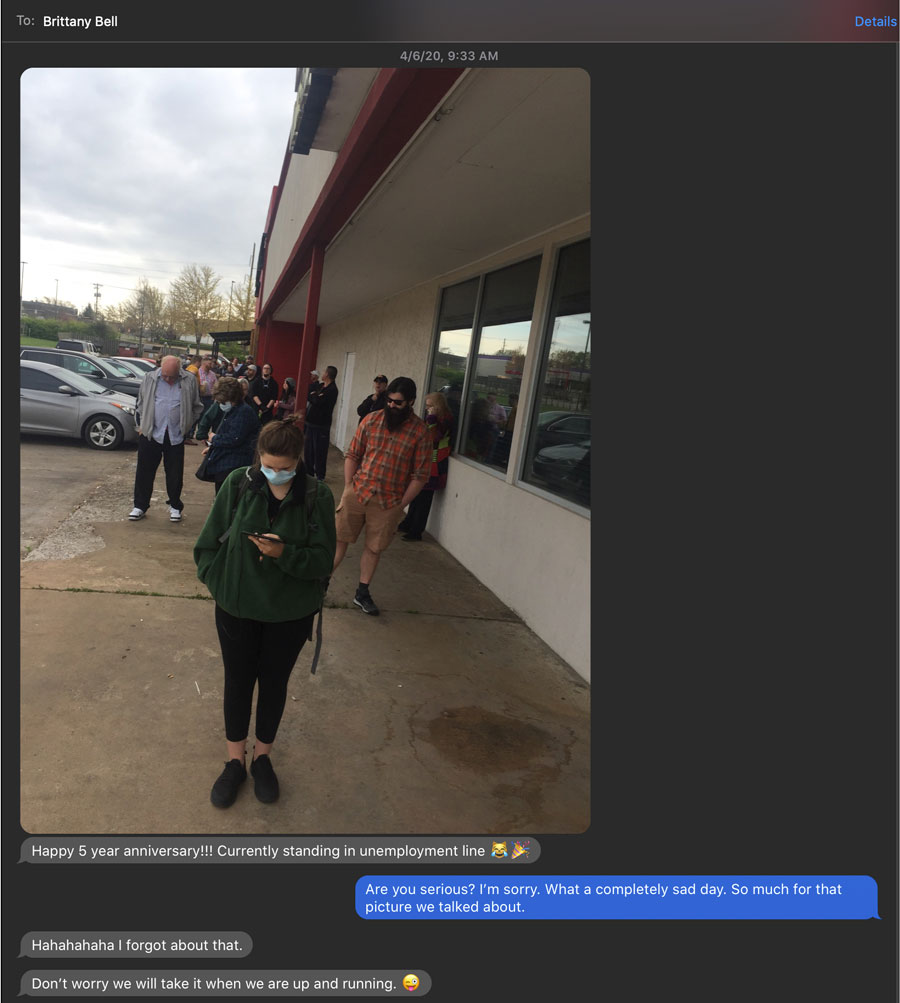 How time flies by fast. It was ten years ago when I saw my first patient at Founders Park Dentistry here in Springdale Arkansas. I remember that as both a time of excitement and high anxiety. This was my first venture out on my own and I was determined to succeed.
Originally being from Fort Smith, I had spent time in Northwest Arkansas going to college at the University of Arkansas in the 1990s. The plan had always been to move back to the area. It just took longer than we thought. My wife had wanted to stay to complete a residency after Pharmacy school and then had been offered a job as faculty at the University of Oklahoma College of Pharmacy. In the meantime, we had bought a house and started a family.
It probably wasn't the easiest way to do it, but I was opening a dental practice from scratch. I had been practicing as an associate in Oklahoma at that time for almost nine years. There were many trips back and forth as I worked full time and set up a practice almost two hundred miles away.
At that time, I tried not to watch the news as depressing stories about the economy made the headlines. I had started my venture a year before the financial crisis and by the time the crisis rolled around, it was too late. Construction had already started and my name was on the note.
At this point in time of reflection, I'm proud of where I am. And I know that I could not have done this without the support of my wife, my family, my staff, and of course my patients. For that I am grateful. Here is looking forward to another ten years!
Thank you,
Dr. Robert Stark
Our office would like to thank our patients for a successful year. You all are the reason we are here and we are very grateful for it. As an office, we have made many improvements to our systems. A lot of improvements are small but meaningful. This year, we have invested in new equipment to more efficiently and effectively sterilize our instruments.
New Trios Scanner
But probably the most significant advancement we have had in our dental office is our new Trios digital dental scanner. It's a high definition camera that converts pictures into three-dimensional objects. We will be using this for all of our dental crowns and bridges, implant crowns, removable dental partials, bruxism guards (night guard), retainers, whitening trays, and Invisalign cases. There will be more detail about this in an upcoming post.
We are looking forward to providing you with exceptional dental services in 2018! Merry Christmas and Happy New Year!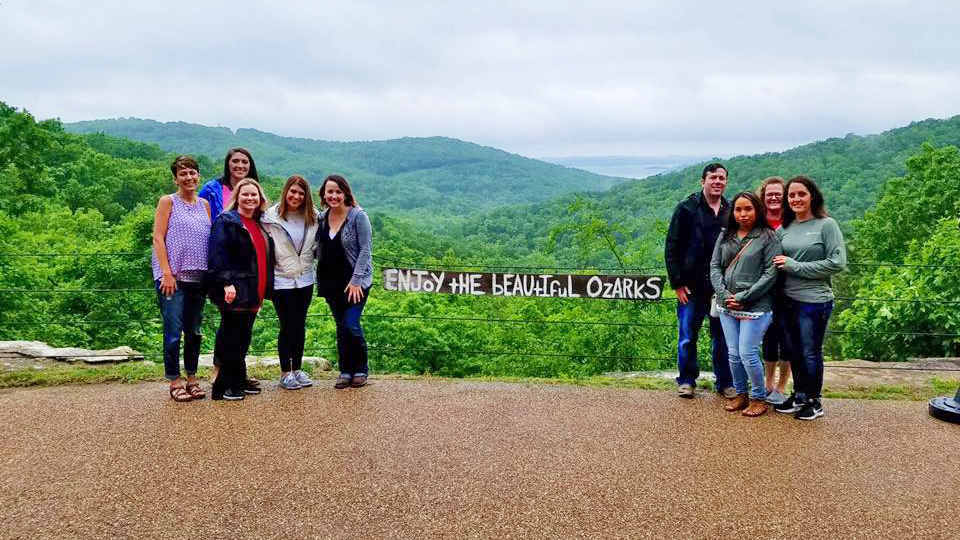 Recently, our staff had a recreational day at Top of the Rock in Missouri. The purpose of this trip was to show appreciation of all of the hard work and at the same time get to know each other better. Our original plan was to spend the day at Dogwood Canyon. Unfortunately the heavy flooding from the storms the previous week had damaged the park so badly that they have closed the park and don't expect it to be open for another year.
We spent the morning touring the grounds and enjoying nature. One of our activities was the Lost Canyon Nature Trail. We saddled up on about 3 golf carts and hit the trail early morning. Many sites to see including waterfalls, caves, bridges, and of course nature. We topped it off with a lunch at Arnies Barn. Another interesting part of our afternoon was visiting the Ancient Ozarks History Museum. The staff got to see the history of the Ozarks and the animals and people from the state's past.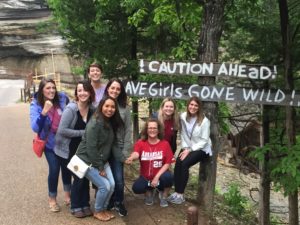 P.S. I wanted to say thank you to all of our staff members here at Founders Park Dentistry. I enjoyed spending the day with you guys at Big Cedar. Your hard work and dedication to our team really means a lot to me.
Dr. Robert Stark
This week the lovely Brittany Bell is taking over as Dr. Stark's hygienist as Melanie and her husband, Matthew embark on a journey to New York City. Melanie is extremely passionate about her patients and we are sorry to see her go as she was a vital asset to our office. She will be missed tremendously and we wish her the best of luck in the Big Apple.
We welcome Brittany to our office and we know she will be a wonderful addition to our staff!!
"A big thanks to the amazing staff at Founders Park, the gracious patients that I've had the privilege to treat and of course, the one and only Dr. Stark. I'll miss you all very much. Thanks for making this the BEST office i've had the opportunity to work at!
Best Wishes!" -Melanie